Thank you all who attended the SIRF IMRt Masterclass - Virtual Reality for Safety and Technical Training.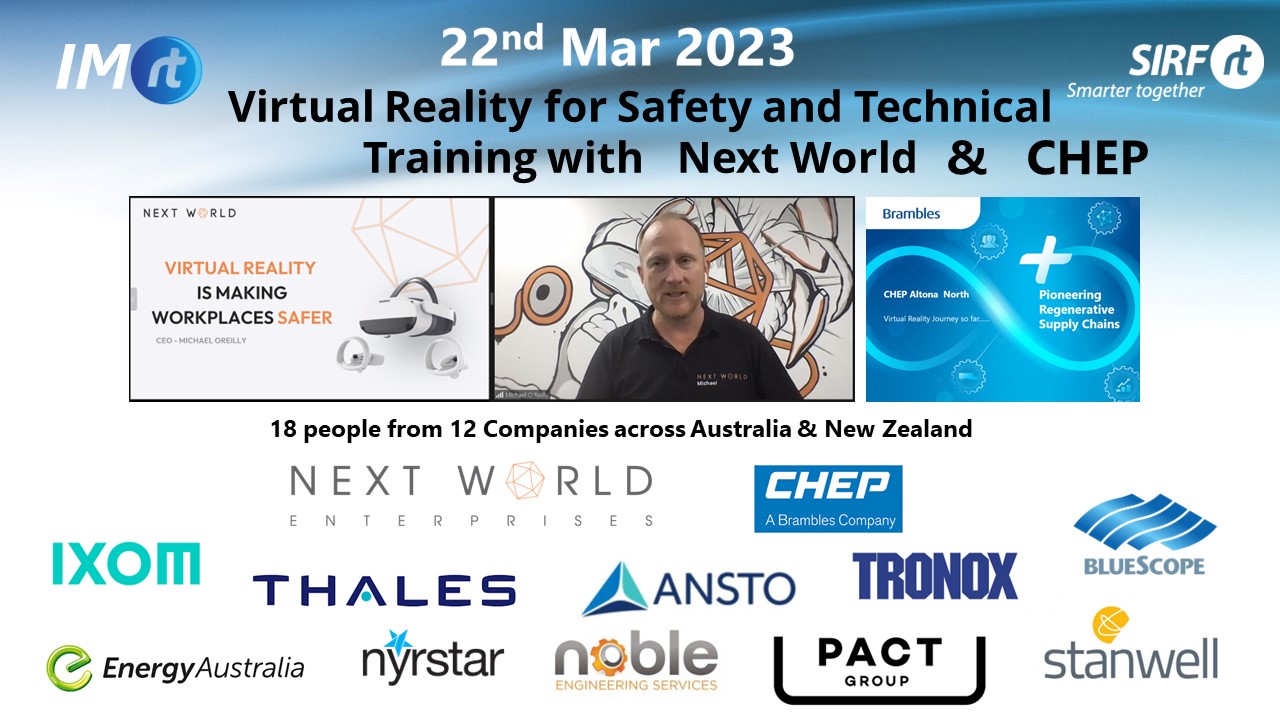 Our thanks to Michael O'Reilly of Next World for his presentation on the Next World process of Virtual Reality and also to Peter Smith from CHEP for providing his presentation on how CHEP us the Next World product.
There was a lot of discussion and questions and networking via breakout rooms.
18 people from 12 companies across Australia and New Zealand attended.
People came with the following Aims:
to understand options for delivering quality safety training via VR
I was invited. I am here to learn.
An idea of what new technologies are out that and how we can use them in our company
Just to see what VR learning can offer to enhance our training programs
Examples of how VR has been integrated into BAU training
Learn about the practical application of the Next World product for safety training
General Information and how this technology will benefit our business
Looking to learn more about industry trends and currently available technology solutions to reduce learning timeframes
To learn more about how we can use VR to deliver better training
Networking - to meet new people and learn what their current safety training methods are and also what their goals may be
Expectation: VR tools for multi-site collaboration and training.
Understand how VR can be used for training
Seeing what technologies are available to assist with remote / real-time training /comm's
See if it can be used on my site
How we can use VR in safety, maintenance and processing training
With some of the following comments and questions which were answered in the session:
Do you find that there is an equivalent take up of information across all age groups or is there a difference between the younger generations and older generations in a learning group? We generally find that younger people are much faster to take up technology than some who have come through traditional learning environments.
What software are you using to build custom content?
How long does it take to develop a basic VR module?
Are you able to integrate 360 video into the training? Or only the animated environments?
How do you account for individuals who are not good wearing headsets i.e. dizziness?
With the reduction in the time of training there will be temptation to stack courses into the time that would have been used for traditional training. Is there any evidence on how this affects retention rates/effectiveness?
I notice there is a screen at the back of the kitchen - is that how the trainer monitors the session? Do we need to have separate monitors on location or can we do this anywhere?
Is the student in first person at all or always third person?
Michael, I see you have a virtual LMS offering. Does it integrate with other LMS's like Success Factors?
does CHEP just use standard Next World content? how do records integrate with existing LMS?
How are the modules you have already developed accessed? Is it subscription, based or cost per user?
do headsets get updated as part of the subscription model when tech improves
And left with the following takeaways:
Thanks for the info
food for thought and hopefully the beginning of change
I got some ideas about where this could be utilised on our site
VR is worth trialing to improve engagement and retention in relation to safety training
VR potential now and what may be for future
Potentially a great tool to assist in making a safer workplace by improving retention
The benefits are already proven regarding retention and reduction in injuries.
Take-away: Understanding where VR currently and seeing practical examples.
My first time really looking into VR training. Great to see what the current state of play is.
Exciting to see the pace of change and the growing opportunities for training
thank you Angus and team. Really useful.