QLD & NSW Summer Newsletter
Welcome to our final newsletter for 2018. How is it possible that the year has gone so fast!?! You'll see from the stats throughout the newsletter that it was another big quarter at SIRF.
There were some incredible masterclasses with some very knowledgeable guest presenters and we also had another visit from Ron Moore who once again wowed his audiences with his tried and proven methods of achieving operational excellence. A very big thank you to Peter Lyons from Origin Energy for his overview below of their in-house training with Ron. It's always very satisfying to hear that our facilitation has helped another iconic company in their journey towards operational excellence.
Our offices will be closed for Christmas from 24 December to 4 January (inclusive). On behalf of our SIRF team, I'd also like to take this opportunity to wish you and your loved ones a very Merry Christmas and an incredible New Year. Here's hoping Santa brings you everything you wished for!
Lana May
Business Support Manager
HIGHLIGHTS OVER THE LAST QUARTER IN QLD & NSW
We welcomed 5 new companies as SIRF members, ran 42 events which 520 people attended and was represented by 102 different companies.
New Members of SIRF Roundtables
At SIRF we are always excited when new members come on board to join our 'family'.
We'd like to take this opportunity to welcome the Darwalla Group, Gladstone Ports Corporation, and Pacific National in Queensland, and CHEP and George Weston Foods in New South Wales.
Please be sure to say hi and make them feel welcome at your next SIRF event.
QLD Arnott's Site Tour
Earlier this week I was lucky enough to spend some time with a group of SIRF members visiting the Arnott's factory in Brisbane, an iconic brand that has gone through significant change over the years to maintain efficiencies and position in an ever-changing market. Most of those changes have centered around automation and robotics, with the impact on the facility achieving great results.
One thing I couldn't help noticing as we walked around the facility was the way people smiled, said hello, answered a few questions we had and seemed to enjoy their work. It always makes me feel good when I go around facilities and see happy smiling people around the place, it is a great barometer of the culture and leadership of the plant.
Reflecting on that made me realise that for all it is important that we modernise and move towards new technologies, the heart of any business is still around the people. The impact of taking customers, shareholders, media, politicians and the public in general around a facility that is full of happy people is incredibly powerful, and the potential for brand development and market presence should not be missed, well done Arnott's for striking a great balance.
Thank you for an incredible day, from us all...
Gary Silversides; Managing Director
NSW Supply Chain Masterclasses
We had three fantastic masterclasses over the October and November period with some brilliant insights delivered by our great presenters.
Our first was held at Actron Air's brand-new facility at Marsden Park. Our masterclass presenter was Mr. Troy Menyweather from Lendlease. Troy is Head of Global Sourcing and Supplier Risk so was well equipped to present on the topic of Supplier Risk Management. Troy kindly took time out of his busy work schedule to provide some valuable insights from not only his perspective within Lendlease but also drew upon his prior experiences at AGL and BlueScope.
A down to earth presenter Troy put things in practical terms, engaged the audience and stressed the importance of assessing your risk across various criteria, making it visual for leadership to see and taking actions to affect change.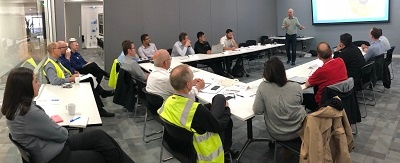 Our second masterclass was held at GWA's new distribution and R&D facility at Prestons and this time our masterclass presenter was Mr. Ron Hurley. Ron is currently the Director of Supply Chain for the Pacific region at Pernod Ricard one of the largest wines and spirits companies in the world.
Ron presented on the topic of End to End Supply Chain visibility and provided an in-depth look at how he transformed the supply chain over 4 years at his previous company Fuji Xerox. Providing a methodology that could be used in any business and with proven results it was a valuable experience for all in attendance on this day.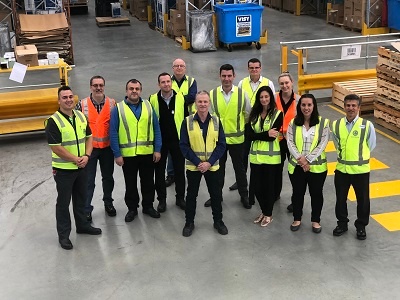 Our third masterclass was hosted by General Mills, the makers of Old El Paso Mexican food and Latina pasta. Our presenter was John Broadbent, Managing Director of Realise Potential and recently back from the Inca trail in Peru.
John presented on Product Tracking and Traceability and how this works with Industrie 4.0. and the Internet of Things. All participants came away with a new understanding of what is available and some inspiration of how to get their businesses engaged in IoT and leveraging technology.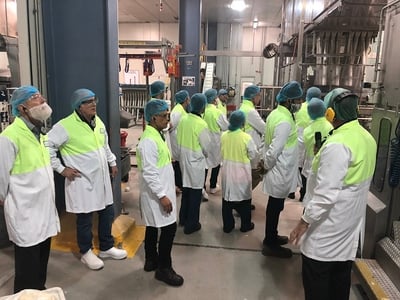 We would like to thank both Troy, Ron, and John for taking the time out of their busy work schedules to share their knowledge and experiences with our SIRF membership and in doing so motivating others to improve their businesses.
We would also like to thank friends at Actron Air, GWA and General Mills for hosting these events and welcoming other members onto their sites and providing tours of their premises.
John Smith; Training & Development Manager NSW
Ron Moore In-House Workshop at Eraring Power Station
Origin Energy had the pleasure of hosting Ron Moore at our Eraring Power Station on 1
st
and 2
nd
November. Ron engaged with a combined audience of 55 employees and contractor partners over two interactive days. The clear messages around good teamwork and systems to assist and enable reliability improvement was well received.
Positive comments were aplenty, such as the one below from Darren Snape; Maintenance Team Leader.
"Great presentation portrayed in a very simple manner and in a very relaxed atmosphere. Some excellent information. One of, if not, the best work presentations I have been to".
Thanks, SIRF for facilitating Ron's visit.
Peter Lyons
Reliability Lead - Generation Operations
Edge Connect
Good
organisations
have great people. Great organisations have great leaders that lead in a certain way. They understand the benefits of investing in and developing their people to create a greater capability, so their organisations can drive towards world-class performance.
We believe in the power of creating opportunities for people to share their knowledge and experiences for the benefit of individuals and their organisations.
Leadership is such an important topic and especially for those people at the middle level of the organisation who play a daily role in forming the culture of the business.
After running a successful future leader program, The Edge, for many years we have developed and launched an additional program called
Edge Connect
so we can continue to provide learning and growth opportunities for the leaders in your business.
We had our first meeting on 10th August 2018 at the Atura Function Centre in Prospect. With a good mix of businesses, the participants met some familiar faces from their previous Edge courses they attended and enjoyed the day immensely.
We meet each quarter with the participants working collaboratively on learning projects between events building, upon their collaboration and leadership skills. Each session involves drilling down into topics to deepen the understanding and we ensure we have an interactive environment to facilitate learning.
For further details on how your employees can benefit from this program contact me on 0403 960 634 or
john.smith@sirfrt.com.au
John Smith; Training & Development Manager NSW
SIRF Events in Pictures
SIRF held over 40 events across Queensland and New South Wales over the last quarter. The majority of these are hosted on-site by our member companies. Without the support of these companies, our members wouldn't have the opportunity to visit other sites and learn from their peers. This quarter we'd like to thank Arnott's, Austral Bricks, Woolworths, Incitec Pivot Limited, Orica Helidon, Sibelco, Asahi, Winson, APA Group, Thales, Kavanagh, Rheem, Actron Air, Zip Industries, Orora Beverage Cans, GWA, Hunter Water, Snowy Hydro, Kimberley Clark and General Mills.
OERt CIWG

SOP Development

SCRt Masterclass

Supplier Risk Management

IMRt CIWG

Arc Flash Mitigation
Rt Advantage Workshop

Introduction to Lean

International Guest Speaker

Ron Moore 1 Day in Newcastle

International Guest Speaker

Ron Moore QLD Public
SIRF Roundtable Contacts
NSW Rt Manager | Les Wingham | 0401 066 344
NSW Training & Development Manager | John Smith | 0407 380 232
NSW Customer Support | Samantha Jeffrey | 0438 058 823
QLD Managing Director | Gary Silversides | 0479 164 169
QLD Customer Relationship Manager | Heidi Thompson | 0419 511 767
QLD Customer Support | Hannah Watts | 0436 449 713