Winston Ledet(1999) developed the Maintenance Maturity model 20 years ago and Planned Maintenance is a foundational element of this model and really key to building maintenance maturity.
The model maps out maturity in maintenance to deliver an organisation wide reliability culture that drives competitiveness. It steps through levels of maturity starting with the reactive level where they fix it after it fails and defer maintenance. The planned level that follows is crucial to pulling an organisation out of the reactive level to instead fix it before it fails and where maintenance is planned, scheduled and coordinated.
The planned level, reduces some of the very high costs and often stress and chaos of the reactive level, bringing some much-needed control and better OEE. But it can still be quite expensive with the amount of resources invested and especially if gets into scheduled change outs and overhauls which are often time based. An approach which can lead to over servicing, changing out perfectly good parts and with being intrusive with potential to create waste. In times of budget cuts, lack of resources and time that its often PM that suffers leading to organisations fall back in the Reactive space. So, it is well worth putting some focus on the planned level to make sure this is right, to make sure there is a solid foundation for the next level of Maintenance maturity.
Given how foundational Planning and Scheduling is to maintenance maturity, SIRF has placed some focus on this over the year to support organisations and folk working in this space. In previous months we have had our International Expert Joel Levitt delivering his very well-regarded Maintenance planning and scheduling training with public workshops, onsite and online.
Next week we have Common Interest Work Group in Maintenance planning and scheduling happening via Zoom.
11th Aug, SIRF Maintenance Planning and Scheduling Hydro Tasmania Hobart
https://www.eventbrite.com.au/e/victas-maintenance-planning-and-scheduling-hydro-tasmania-hobart-registration-89523078939
It provides an opportunity for those in the Maintenance planning and scheduling role to meet up with peers in other companies and industries to compare notes. This has been very popular booking up early and with Melbourne water, CSR, APA, Viva Energy, Auspost, Saputo, Qenos, Bluescope Steel, O-I glass, Nyrstar, Tasports, CSL Behring, South32, Textor technologies joining Hydro Tasmania to share insights of what they are doing and learn and share on the topic. While it booked out if interested in any of learnings from this workshop do let me know and will be happy to pass on wrap up from the session.
To focus on the important topic of shutdown planning we have a workshop coming up next month via Zoom. As part of this session, we will have Nufarm a major industrial site and a major hazard facility and who put a lot of effort into planning their major shutdowns share on their experience and insights. This will be an opportunity to hear from them on what they do to plan major shutdowns, while also creating an opportunity to share and learn from others attending.
There are places available for this session, book on before it books out…
Come along and share your experience and practices with others facing the same opportunities and challenges with improving major shutdown planning !
2nd Sept, SIRF's Major Shutdown Planning - Nufarm Laverton - via Zoom
https://www.eventbrite.com.au/e/victas-major-shutdown-planning-nufarm-laverton-via-zoom-tickets-86763886119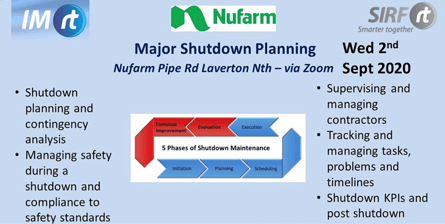 Alain LeBon
VicTas IMRt State Manager