As businesses progress in maintenance maturity, one aspect that deserves due attention is optimising maintenance strategies, particularly with the scope it has to greatly engage the trades and significantly remove waste from its operations.
Maintenance strategies typically have evolved rather than are designed. They start from recommendations from the OEM (Original Equipment Manufacturer) that may involve over-servicing to some level and also can build in considerable waste. They are often modified by successive maintenance personnel in response to either cost cutting pressures or breakdowns. Often the trades executing the strategies know that some work add little or no value but the work is still carried out. Some gains can be made in freeing up labour for more value-add work by a proper review, screening and further development of strategies.
While not prescribing any particular methodology for optimising strategy, as many methodologies exist and choice might be driven by preference and suitability, there are certainly key aspects that can drive success and deliver gains,
Gaining understanding – this is crucial, you cannot optimise and improve something you don't understand. So, it is very important to understand what you have in not only strategy, its effectiveness (with data), but also understanding the equipment concerned. Much of this needs to happen on the shop floor to understand how the equipment works and how it typically fails (with data). This will likely need the involvement of various folk.
Trades Involvement – trades are a great resource to gain a hands on understanding of not only the equipment concerned, how it fails, but also the strategy employed, obvious sources of waste and what could be more optimum.
Operations involvement – is needed to gain not only an understanding of how the equipment works, but also to gain understanding of the early signs of failure and how they could be involved in maintenance strategies.
OEM involvement – can be useful where there are gaps in understanding in operation and maintenance of plant and equipment concerned. Keeping in mind their approaches can often be quite conservative and lacking in appropriateness to the specific plant context.
Role of Leadership – is key for not only sponsorship to ensure the optimising effort gets due resources but also follow through so strategies are sustained.
Systems and processes – while the optimum strategy is developed, it will never be put into effect unless it is backed up with planning, scheduling and execution.
Continuous improvement – is essential, any optimising work done is best done with a premise to be continually improved. Using PDCA to plan, do check results and act to further review and optimise. Optimising maintenance strategy is a continuous journey…
Delivered effectively, maintenance strategy optimisation can lead to greater understanding of equipment, how it works and how it fails. The involvement of trades and operations in the process gains a greater sense of ownership, responsibility and their engagement. This result, combined with a more optimum maintenance strategy, is the recipe that delivers significant reductions in waste.
While a recipe for success, there are possibly still some questions left on,
How to determine if a maintenance strategy adds value
The processes to optimise strategies
Operator and maintenance involvement and ownership
Managing the risks introduced by the strategy itself
Methods to reduce the cost of strategies
Resource requirements for strategy optimisation
Gaining feedback on strategy relevance from those doing the work
Scope of optimisation
Tracking progress, results and continuous review
In which case, come join us at our SIRF workshop on,
7th August, Maintenance Strategy Optimisation - BlueScope Hastings
Click here for event information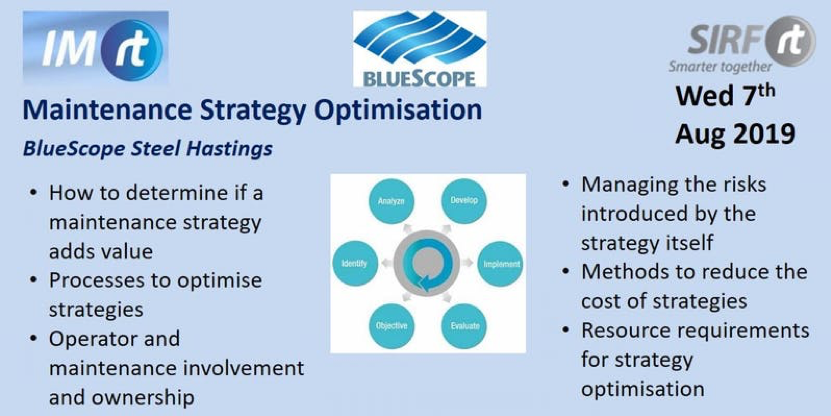 Joining Bluescope, we have NCI packaging, Qenos, CSR building products, Australia Post, VIP packaging (Pact Group), South East Water and Casella wines. With only some remaining places left, do book on soon if would like to be part of the day.
This workshop will have BlueScope Steel share on the considerable work they have done in optimisation of Maintenance strategies to great result in removing waste and significantly impacting the efficiency and effectiveness of Maintenance resources. Come share with and learn from others who have also interest in this topic.